World of Enzymes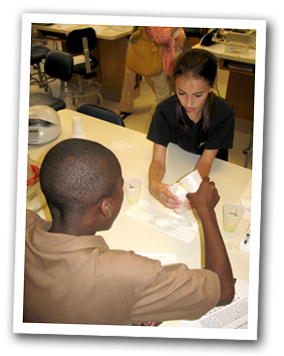 Developed as a sequel to the popular Fun with DNA camp, World of Enzymes builds on basic concepts of biochemistry and molecular biology and enables students to utilize advanced techniques to manipulate DNA. Through direct observation and manipulation of enzymes, participants develop an understanding of the importance of proteins, not only in living things, but also in recombinant DNA technology, cloning, and industry.
Students will:
build molecular models;
observe enzymes in action that are used for food production and healthcare;
use enzymes to cut and splice DNA;
analyze DNA fragments with gel electrophoresis; and
make a personal DNA fingerprint.
World of Enzymes is limited to alumni of Fun with DNA entering grade 7, or students entering grade 8.
Tuition is $450 and includes all materials. World of Enzymes runs Monday through Thursday 9:30 a.m.-2:30 p.m. Parent Participation Day is on Friday*: for July 7-11 and July 28-Aug 1, Parent Day will be 9:30 a.m.-11:30 a.m.; for Aug 18-22 and Aug 25-29 the time will be determined before the camp and registrants will be informed in the confirmation email.
* Week of June 30-July 3 camps are Monday-Thurday 9:30 a.m.-2:30 p.m., with no camp on Friday, July 4th. Parent Day is Thursday, July 3rd from 2:30 p.m.-4:30 p.m.