Virtual On-Demand Camps
Participate from home with recorded materials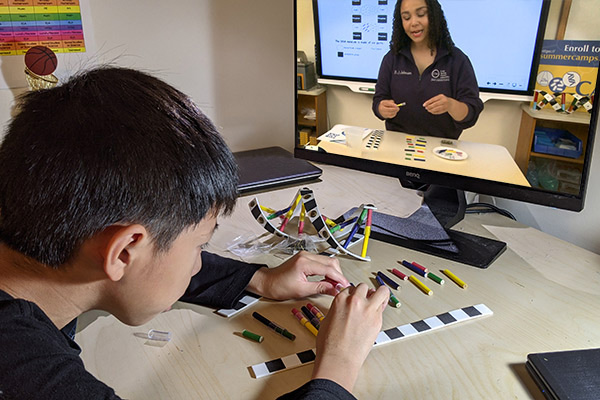 Use pre-recorded daily lessons and materials to complete an entire camp curriculum at your own pace, whenever it's convenient. In On-Demand Camps:
Students have private access to daily sessions pre-recorded by DNALC educators allows for easy, at-home viewing.
A kit containing lab materials and camp workbooks and protocols can be picked up at the DNALC or shipped to your home+.
Office hours for each camp will be held once per week on a regular schedule throughout the summer to allow campers to connect with a DNALC educator to ask questions, troubleshoot labs, and share results.
The DNA Barcoding and Genome Science camps require that DNA samples isolated at home be dropped off or shipped back to the DNALC for processing by specified dates. The cost of shipping is to be covered by the student and their family. A link will be made available to keep campers updated on sample processing and to see results.
When an On-Demand Camp application is received, registered campers will receive an email with kit pick-up information or shipment status and instructions on accessing the camp videos and Google Classroom.
All online recordings will be accessible in the parent/guardian DNALC Summer Camps account for 60 days from the date of registration.
Preview the On-Demand Welcome video on YouTube or download a PDF welcome document.
+ Unfortunately, due to constraints and costs for shipping kits and samples, we are unable to accept international On-Demand camp registrations.
Camp
Prerequisites
Tuition
In-person|

On-Demand

Fun with DNA
entering grade 6–7
$550 | 350
World of Enzymes
entering grade 8 or Fun With DNA alumni entering grade 7
$550 | 350
Forensic Detectives
entering grade 9–10
$550 | 350
DNA Barcoding
DNA Science alumni entering grades 10–12
$635 | 350
Genome Science
DNA Science alumni (or completed AP Biology) entering grades 11–12
$635 | 350
Virtual On-Demand Video Camps

In-Person | Virtual Live | On-Demand
Entry-level course in DNA science; entering grades 6–7

World of Enzymes
In-Person | Virtual Live | On-Demand
Intro to enzymes in molecular biology and industry; entering grade 8 & Fun alumni entering grade 7

Forensic Detectives
In-Person | Virtual Live | On-Demand
Intro to conventional forensic science; entering grades 9–10

DNA Barcoding
In-Person | Virtual Live | On-Demand
Use DNA barcoding to explore biodiversity; entering grades 10–12, or 9 with biology coursework

Genome Science
In-Person | Virtual Live | On-Demand
Analyze the genetic complement of several organisms; entering grades 11–12 with advanced coursework or camp