STARS (Science Technology & Research Scholars)
STEM Program for Minority Students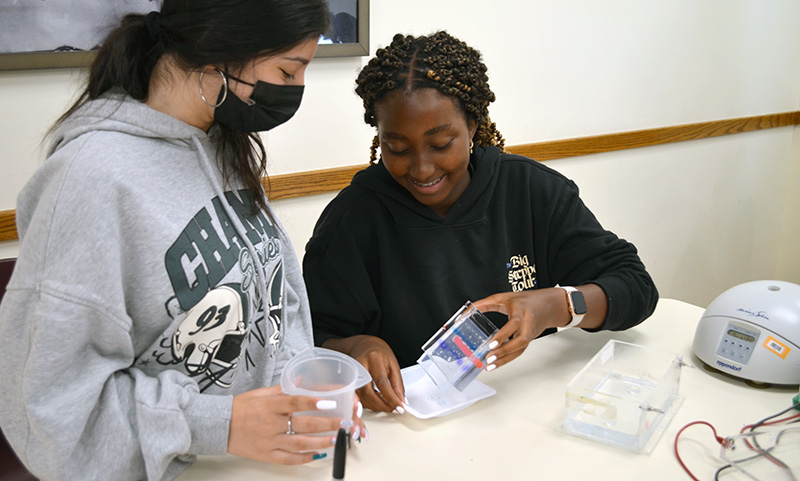 STARS is offered in-person at the Cold Spring Harbor Dolan DNALC.
In-Person STARS
Cold Spring Harbor location only
STARS is a two-week summer research experience designed to support the next generation of minority scientists, doctors, and other health professionals. This program provides students with state-of-the-art laboratory and computer science skills needed to succeed in STEM (science, technology, engineering, mathematics) in college and beyond.
Students conduct hands-on science and computer projects and participate in enrichment activities including discussions with researchers and tours of the Cold Spring Harbor Laboratory and Stony Brook University campuses. After the two-week program, students also have a line of communication to mentors who can provide advice on finding future research experiences and preparing for college. Students will join our alumni network which includes school-year virtual and in-person activities for mentorship, college prep, and research experiences.
Classes run Monday through Friday, from 9:00 a.m. to 4:00 p.m. (Stony Brook field trip day concludes at 6:00 p.m.). Parents are responsible for on-time drop-off and pickup, and we will work to accommodate students for whom transportation presents a hardship.
Students build skills in three areas:
Molecular Biology
Acquire basic biological/biomedical laboratory skills such as laboratory safety, DNA extraction and analysis, DNA sequencing, and other molecular biology techniques
Work on a complete research project using DNA barcoding to identify species of invertebrates, insects or plants in their environment
Coding and Data Science
Learn the basics of computer coding (in the Python language) and fundamental data science skills
Learn how to write code in order to analyze biological data
Science and Career Skills for Success
Understand how to develop science research questions
Communicate the results of research, including writing, speaking, and presentation skills
Explore career opportunities in science and understand how to prepare for success (writing a resume, finding a mentor, effective study techniques)
Eligibility:
The STARS program is limited to students who are underrepresented minorities in STEM (defined by the National Science Foundation as Black or African American; American Indian or Native Alaskan; Hispanic or Latino; and Native Pacific Islander); eligible students have completed the 9th grade.
All accepted students are accepted on scholarship ($1,350 tuition is waived). As part of their service as scholars, students have a community engagement responsibility, including a presentation at the end of their research experience and help to recruit and support future STAR scholars.
Application Process and Requirements:
Create an account on the summer camps page and register for STARS
On the payment page, select the "request scholarship" link at the bottom of the page.
Application is a selective process. Once your application and teacher recommendation are received, we will reach out to you for a personal statement (500 words or less).
Transportation: Student's parents/guardians are responsible for transportation to and from the camp in Cold Spring Harbor (9:00 a.m. drop off, 4:00 p.m. pickup). If there is a hardship, funds may be available to provide transportation alternatives, including bussing.
Applications and teacher recommendations should be completed by April 17, 2023. Notification of acceptance will be on or before May 1, 2023. Applications after April 17th will be accepted until enrollment is full. Applications submitted after the camp fills will be waitlisted. Contact Jason Williams at the DNA Learning Center at williams@cshl.edu with questions.
Details:
Grades: entering grades 10–12
Students must be underrepresented minorities in STEM
August 7-18, 2023
Student/guardian orientation Saturday, August 5, 2023
Monday through Friday, from 9:30 a.m. to 4:00 p.m.(Stony Brook field trip day will conclude at 6:00 p.m.)
Scholarships available