Plant Genomics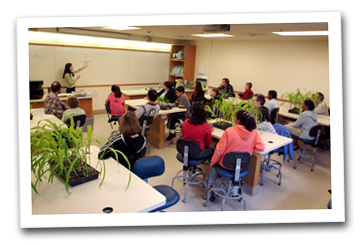 Using the model plant Arabidopsis and important food crops, this workshop illustrates key concepts of gene and genome analysis, including: the relationship between phenotype and molecular genotype, genetic modification of plants and detection of transgenes in foods, and linkage and bioinformatic methods for gene mapping. Participants will also have the unique opportunity to explore functional genomics by assisting CSHL researchers with the cellular analysis of Arabidopsis genes of unknown function. An Internet "super site" supports the laboratories with online protocols, custom analysis tools, shared databases, and collaborative bulletin boards and chat systems.
The workshop mixes theoretical, laboratory, and computer work with team projects. This program is for high school students interested in advanced genomic biology and plant genetics. Some computer skills and prior experience with DNA analysis is necessary.
Plant Genomics is strictly limited to students who are entering 11th grade or higher, and have taken DNA Science or have a high level of training in the sciences (documentation required).
Tuition is $525 and includes all materials. The workshop runs Monday, Tuesday, Thurday, Friday 9:30 a.m.-4:00 p.m. No camp on Wednesday July 4th.