Fun with DNA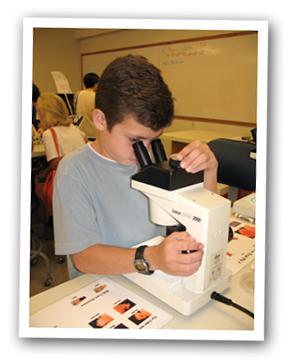 Fun with DNA is an entry-level course in DNA science. This camp is designed especially for highly motivated students interested in expanding their knowledge of basic genetics and cell biology. Students are immersed in an environment of hands on activities and laboratory experiments designed to increase genetic literacy, encourage critical and creative thinking, and spark interest in the field of biotechnology.
Students will:
construct cell and DNA models;
use compound microscopes to view various cell types;
extract DNA from their own cells and from plants;
use stereo microscopes to observe mutations in fruit flies; and
genetically engineer bacteria cells with firefly genes.
Fun with DNA is for students entering grade 6 or 7. Fun with DNA is a prerequisite for World of Enzymes for students entering grade 7.
Tuition is $520 and includes all materials. Fun with DNA runs Monday through Thursday 9:30 a.m.-2:30 p.m. Parent Day is on Friday; check schedule.