BioCoding
"If you can't do bioinformatics, you can't do biology"
Lincoln Stein
Biologist and former CSHL Professor
Computers have revolutionized almost every aspect of our lives, including life science research. Unfortunately, a visit to most science classrooms would leave you with the impression that biology is only about microscopes and dissections. In fact, biology is in the middle of its biggest "revolution" as bioinformatics — the use of computing technologies to manage and understand biological data — changes how we understand everything from genomes to ecosystems.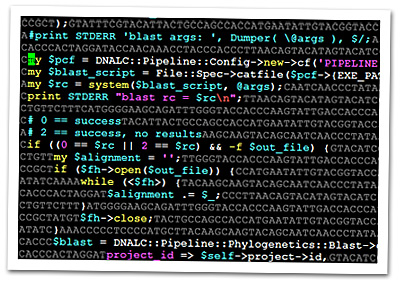 This camp introduces the basic skills necessary for bioinformatics and will equip motivated students with knowledge that will serve them well after the course is completed. Participating students should have an introductory knowledge of biology, but little to no knowledge of computer programming or bioinformatics is required. Basic typing proficiency and a strong interest in problem solving is recommended. Students will also learn basic molecular biology techniques with a hands-on laboratory to isolate and sequence DNA from biological samples; the data generated will be analyzed using common bioinformatics techniques, tools, and databases.
In this course, students will:
learn about and use the Linux operating system;
write computer programs in the Python programming language;
extract and sequence DNA samples in the lab using PCR;
manipulate and analyze DNA and protein sequence data; and
explore online biological sequence databases.
BioCoding is strictly limited to students who are entering 11th grade or higher, and have taken DNA Science or have a high level of training in the sciences (documentation required).
Tuition is $600 and includes all materials. The workshop runs from 9:30 a.m. to 4:00 p.m., Monday-Thursday, and 9:30 a.m. to 2:00 p.m. Friday.