DNA Barcoding Research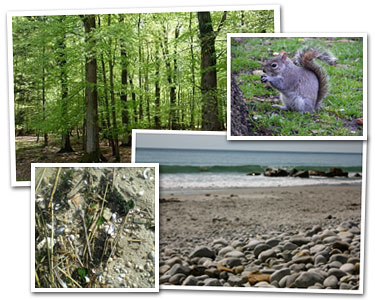 At the interface of land and water, the intertidal zone is a rich and unique habitat. Join a DNALC conservation biologist in an exploration of the intertidal zone and other habitats of the Cold Spring Harbor Laboratory campus.  Participants will collect and professionally photograph a range of aquatic and terrestrial plants and animals. Specimens will be identified with help from field guides and expert curators at the American Museum of Natural History. DNA will be extracted from and sequenced to develop a DNA barcode, which will help provide a unique identity for each specimen. The workshop will culminate in a symposium of scientific posters and multimedia presentations produced by the participants.
This workshop follows a tradition of conservation work begun with the founding of the NY State Fish Hatchery and the Biological Laboratory at Cold Spring Harbor in the late 1800s—and pioneering studies of the intertidal zone that helped found the field of ecology. Participant barcode results will become part of a growing database of DNA sequences that will be used to compare the current biodiversity of Cold Spring Harbor to detailed inventories done in the late 1800's and early 1900s. This comparison will allow us to gauge the loss or gain of species as a result of changes in climate or water quality. Unique sequences that don't already exist in online DNA sequence databases will be published with student-scientists as authors!
Students will:
develop a research project to explore biodiversity of Cold Spring Harbor Laboratory's campus;
conduct field work to collect samples for DNA barcoding analysis;
extract DNA and analyze DNA sequence data from tissue samples;
use DNA sequences to identify species and understand relationships between species; and
produce a scientific poster and present research findings at a "symposium".
DNA Barcoding Research is strictly limited to students who are entering 11th grade or higher, and have taken DNA Science or have a high level of training in the sciences (documentation required).
Tuition is $1,050 and includes all materials. DNA Barcoding Research runs:
Week 1: Monday-Friday 9:30 a.m.-4:00 p.m.
Week 2: Monday through Thursday 9:30 a.m.-4:00 p.m., Friday 9:30 a.m.-12:30 p.m., then Student Presentations 12:30 pm.-2:30 p.m.