Virtual Live Instruction
Attend camp from home
Note June 6, 2022: Virtual Live camps have been cancelled for this summer due to low enrollment. Please see the On-Demand Camp page for our only virtual option.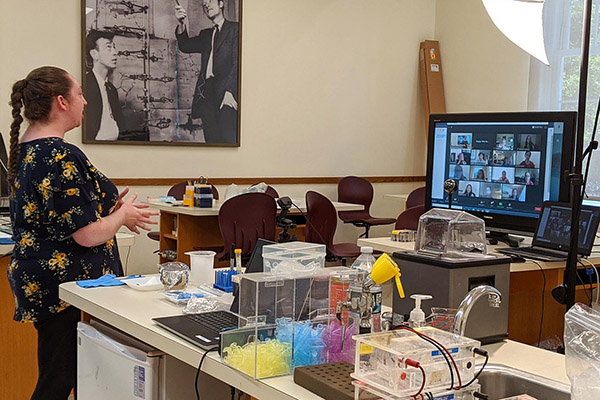 We are pleased to continue offering virtual summer camps to make our programs available to remote campers! Six DNALC camps have been adapted for remote instruction. In Virtual Live Instruction Camps:
Students receive a kit containing materials to complete labs at home alongside classmates and instructor. Kits will be available for pick up at a DNALC location or can be shipped. (Kits are not required for BioCoding.)
Students split time between a whole group setting and working in small breakout groups with classmates.
At the end of Fun with DNA, World of Enzymes and Forensic Detectives, parents and guardians are invited to join the class for "Parent Participation" activities.
The DNA Barcoding and Genome Science camps require that DNA samples isolated at home be dropped off or shipped back OVERNIGHT to the DNALC (by USPS/FEDEx/UPS) for processing. The cost of shipping is to be covered by the student and their family.
DNA Barcoding students will need to return samples on Day 1 and Day 2 (Monday and Wednesday) and Genome Science participants will need to return samples on Day 1 only. 
Camps are conducted on Zoom. A walk-through of Zoom will be sent in advance of the camp to allow participants to familiarize themselves with the platform.
CANCELLED
2022 Summer Camp Calendar
*July 5 to 8: The BioCoding At Home Camp in this week is scheduled for four days due to the Independence Day holiday;
there will be no class on Monday, July 4th.
Camp
Prerequisites
Typical Hours
Tuition
In-person|

Virtual Live

|On-Demand
Fun with DNA
entering grade 6–7
Virtual Live: Mon–Fri 9:30–12:00 or 1:00–3:30
$550 | 450 | 350
World of Enzymes
entering grade 8 or Fun With DNA alumni entering grade 7
Virtual Live: Mon–Fri 9:30–11:30 or 1:00–3:00
$550 | 450 | 350
Forensic Detectives
entering grade 9–10
Virtual Live: Mon–Fri 9:30–12:00 or 1:00–3:30
$550 | 450 | 350
DNA Barcoding
DNA Science alumni entering grades 10–12
Virtual Live: Mon, Wed, Fri 9:30–12:00 or 1:00–3:30 over two weeks
$635 | 550 | 350
BioCoding
DNA Science alumni (or comparable experience) entering grades 11–12
Virtual Live: Tues–Fri 9:30–1:30
$635 | 550 | n/a
Genome Science
DNA Science alumni (or completed AP Biology) entering grades 11–12
Virtual Live: Mon, Wed, Fri 9:30–12:00 or 1:00–3:30 over two weeks
$635 | 550 | 350
Virtual Live Instruction Camps

In-Person | Virtual Live | On-Demand
Entry-level course in DNA science; entering grades 6–7

World of Enzymes
In-Person | Virtual Live | On-Demand
Intro to enzymes in molecular biology and industry; entering grade 8 & Fun alumni entering grade 7

Forensic Detectives
In-Person | Virtual Live | On-Demand
Intro to conventional forensic science; entering grades 9–10

DNA Barcoding
In-Person | Virtual Live | On-Demand
Use DNA barcoding to explore biodiversity; entering grades 10–12, or 9 with biology coursework

BioCoding
In-Person | Virtual Live
Intro to programming and bioinformatics; entering grades 11–12

Genome Science
In-Person | Virtual Live | On-Demand
Analyze the genetic complement of several organisms; entering grades 11–12 with advanced coursework or camp