SPRING
AP Biology Enrichment
Hands-on experiments central to the AP Biology curriculum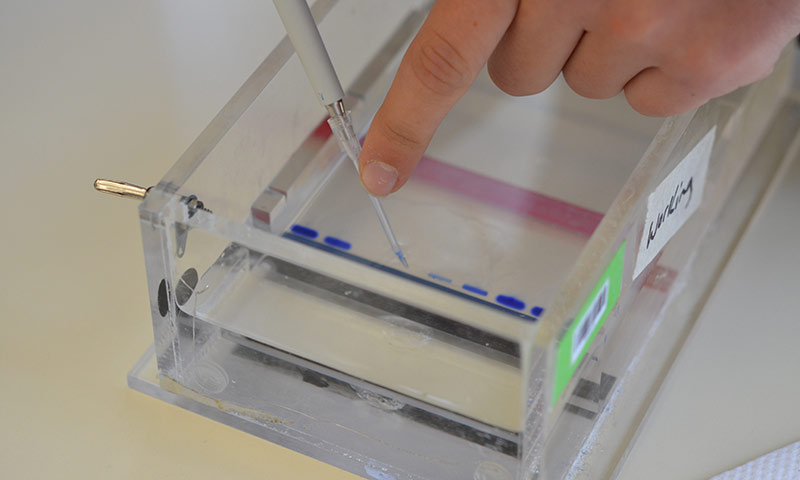 AP Biology Enrichment is offered in-person at the Dolan DNALC location only.
In-Person
AP Biology Enrichment
This course explores topics in genetics and biotechnology covered by the College Board's Advanced Placement (AP) Biology curriculum. Students will perform hands-on experiments central to the AP Biology curriculum that cover concepts and techniques from 4 of the 7 curriculum units, including Unit 1: The Chemistry of Life, Unit 3: Cellular Energetics, Unit 6: Gene expression and Regulation, and Unit 7: Natural Selection. Lab Investigations will strengthen core skills such as collecting and analyzing data, interpreting data to draw conclusions and developing and supporting a claim with evidence. Students will:
perform recombinant DNA technology techniques including bacteria transformation, DNA digest and gel electrophoresis;
target and amplify DNA by polymerase chain reaction (PCR);  
simulate populations to explore principles of population genetics;
use Basic Local Alignment Search Tool (BLAST) and DNA Subway to explore DNA databases and perform DNA sequence analysis; and
generate phylogenetic trees to show evolutionary relationships.
In-person Course @ the DNALC Features:
Courses will meet on Saturdays.
Families will be provided with onsite safety guidelines and student drop off/pick up procedures after registration.
Classes are limited to 8 students per classroom, with no more than 2 classes scheduled in the building at one time.
Students will be seated one per lab bench, and work with their own dedicated sets of equipment.
Lab protocols have been adapted to reduce or eliminate the need for student movement within the classroom.