Genetic Horizons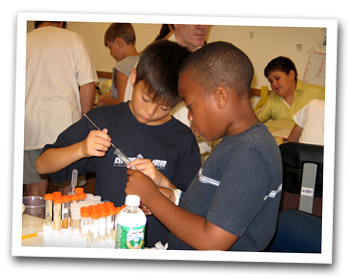 Genetic Horizons is an intensive camp in which alumni of Green Genes can expand their knowledge of genetics. The Human Genome Project is a worldwide collaboration to identify and locate all human genes. As the information revealed by this project will greatly impact our lives, we are faced with the responsibility of preparing the current generation to live in the "gene age." In response, the DNALC has developed an intensive program that encourages students to consider the impact genetic research will have on our lives.
Students will:
use RNAi to "silence" a gene in C. elegans roundworms;
analyze patterns of inheritance and screening for genetic diseases;
identify genetic variations that exist in genetically modified organisms (GMOs); and
use DNA fingerprinting to identify individuals and solve crimes.
Acceptance is limited to 24 participants per camp. Genetic Horizons is strictly limited to alumni of Green Genes.
Tuition is $525 and includes all materials. Genetic Horizons runs Monday - Thursday 9:30 a.m. to 2:30 p.m., and Parent Participation Day is Friday 9:30 a.m. to 11:30 a.m.